Hi there!
I have a set of Art Discussion Cards that might be useful to you!  These questions are great to use in small group discussions, individual writing responses and as a whole class critique.  You can use these questions to discuss a famous artwork or student artwork in peer-to-peer critiques.  If you order them, all you need to do is download them, print them off, cut apart and laminate.  You can reprint them as many times as you would like.
**Note:  I have revised the design of these, so if you have already purchased them, you can download the new design again for free from TPT (or email me and I will resend them to you.)  The text is entirely the same**
Set of 30 Discussion Questions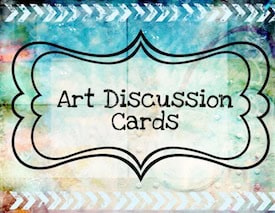 This set of 30 cards contains questions that can used for art critiques (peer-to-peer critique or self-reflection) or discussions about famous artworks.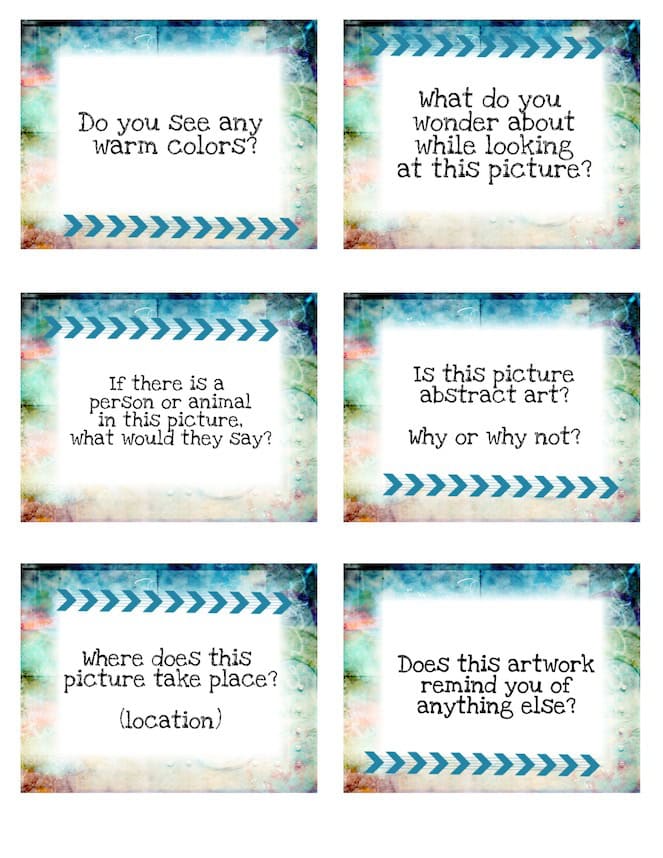 Purchase at Teachers Pay Teachers or at my online shop
Questions such as "What sounds would you hear if you were in this picture?" and "What do you think the artist was trying to say?" will have students analyzing, wondering and discussing artwork. They are also perfect to use for writing activities. (Artwork not included! Choose your own to adapt for any lesson.)
7 pages total:
1.  Description of how to use the cards in various activities.
2-6. The next 5 pages contain 6 cards on each page with an art discussion question for a total of 30 unique cards.
7.  The last page contains a blank template for you to add your own questions!
If you want to save yourself the time it would take to make your own cards and at the same time, support Art is Basic, you can purchase this set for only $4.  Any money I earn from this blog goes toward purchasing art supplies & teaching books and to support my own artistic & professional development.