I think Alaskan native masks are so beautiful.
Our 2nd graders learn about Alaska in their social studies class and to connect with this unit, they explore the meanings and characteristics of Alaskan native art.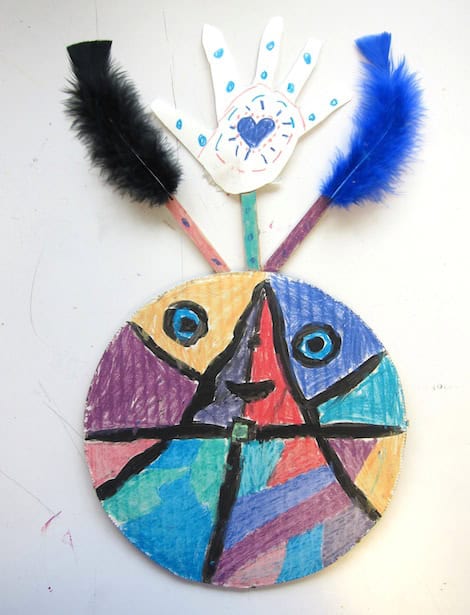 Here is an example of a mask from Alaska:
Our masks are colorful and each child felt free to express their own ideas and to create their own meanings for their mask.
We watched an excellent Alaskan art video that I highly recommend.
It is called Tribal Design by Crizmac.  It is a bit pricy, but there are 5 different sections with 5 cultures.  I use this video for the Pacific Northwest Coast mask unit, African Art and this Alaskan mask unit.  (There are also sections on New Guinea and Pre-Columbian Mexico.)   The video is labeled for grades 4 and up, but I find that my students can get a lot out of the video (and I do teach at a gifted school.)
Drawing the face
 Coloring the mask
Adding embellishments to the mask
Use hot glue (low temperature!  Don't end up with 2nd degree burns like I did.) and masking tape to adhere sticks to the back of the mask to make appendages.  Trace your hand or draw other objects to attach to the appendages.  Glue on fur, feathers, fabric and other embellishments to the mask.